At InHouse CFO we're guilty of focusing on software that Canadian small business owners should use to run their business. If asked, you might think that the answer we'd give about which hardware to use would be is that we don't care, cloud-software works on all internet enabled devices and operating systems. Not true, we do care and for 6 very good reasons.
PICK ONE COMMON OPERATING SYSTEM (OS)
This is obvious. Unless the OS for one of the devices is inadequate, which today none of them are, pick hardware that runs off one common platform. That means you have one of three choices:
Google (Android, Chrome)
Apple (OSX, iOS)
Microsoft (Windows, Windows 8)
In order of ranking from our experience Apple is the clear leader here, with Microsoft a credible but less user-friendly second. Google is a distant third.
EASE OF USE
Apple computers, since day one 30 years ago, have been, and still are all about "plug and play". Cloud-based solutions have eliminated one of the main barriers for Apple to lead in market share in business, software compatibility. Microsoft, for a very long time, was able to rest assured that the much more appealing and user-friendly Apple computer would not pose a threat to its business-use dominance because developing software for it was simply not economical for the development shops. Not true anymore. By definition software built in the cloud works in any internet enabled environment, something Apple knows very well.
Google is a very latecomer to the OS business, however, due to the effect of cloud-based software, one to be watched and considered especially because of the dominance it holds over internet search, and gmail. It also has a big head start over both Apple and Microsoft in social media with Google +. That said, we don't expect Google to really ever challenge Apple in the hardware market. They may "duke it out" for second place with Microsoft, but that will be a generational change, which, if Microsoft is anything near business-savvy, they should be able to avoid this.
SUPPORT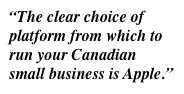 Technical, customer and partner support is, if not already, soon to be the differentiator in which OS wins market share. All three contenders need to learn from some of the recent entrants and now large players in the cloud-software biz to know what can, and soon will be expected to be done to support users. HubSpot (www.HubSpot.com) for one has earned its place in the marketing realm primarily through its responsive, friendly, knowledgeable support group, coupled with the infinitely deep knowledge base and tools made available to its user community.
A Cut Above the Rest - The Apple Business Team
In the past year Apple has introduced a dedicated Business Team to each of its stores, led by experienced B2B professionals. Each team is trained in their product line (of course), software solutions for business (of course) and professional consulting skills (say what?). They hold business briefings with business owners, during which a consultative approach to solutions, costs and impact are reviewed with the prospect well before a decision to proceed is even contemplated. There are no strings attached, and staff on the business team are not compensated by commission. This commitment and delivery of value to business is unmatched by any of their competitors.
RELIABILITY
It goes without saying that hardware platforms must be reliable, perform at speeds that we all have come to expect and "work well with others". By this we mean the OS's off which they run must be un-biased and welcome all makes of solutions easily, otherwise developers will abandon them. I suspect that's the main driver behind the demise of BlackBerry as a viable option.
COST
Here's the area where folks seem to think that Apple suffers. Yes, their product costs are higher, by about 25% overall after considering all factors. That said, it has been our experience that if you include the "people-cost" factor, the ease of use, and simplicity of set up, maintenance, and support provided by the Apple Stores around the world, that investing in Apple solutions in fact reduces the net cost to a business by over 50%.
CONCLUSION
Every person has their affinities when it comes to computing solutions and hardware/OS choices are no exception. As financial and business systems specialists who have experienced the complete evolution of computing in business, we're comfortable in saying that, regardless of the size and/or type of business you are in, the clear choice of platform from which to base your business from is Apple.